Tea – the natural helper against hair loss and other hairy problems
Some teas are a cost-effective and healthy alternative to chemically produced products for hair care. Washing your hair with black tea can cover the first grey strands of dark hair. Camomile tea enhances blonde shades. Hair loss can also be counteracted with tea.
Oily, fine or dry hair? Hair care with tea can help
Oily hair: A conditioner made of sage tea regulates the sebum production of the scalp and thus prevents oily hair. For hair care with sage, 2 tablespoons of sage are brewed with 500 ml of boiling water as tea. After a soaking time of 3-4 hours, the hair is rinsed with the tea after washing with shampoo. Similarly good results can be achieved with a rinse of nettle tea. The rinses can be repeated every 2-3 days.
Fine hair: Green tea strengthens the hair and gives fine hair more volume again. For hair care with green tea, 5 tea bags of green tea are poured over 1 liter of boiling water. After 10 minutes the tea bags are removed. After another 20 minutes cooling time, the hair can be rinsed with the tea. To achieve good results, the rinse should be done at least every 3 days.
Dry, brittle hair: A good household remedy against dry and brittle hair is regular hair care with black tea. For this purpose, 4 bags of black tea are brewed with 1 liter of boiling water. After a brewing time of about 15 minutes, the water often has to cool down for another 15 minutes. Then the hair is rinsed with the tea. The application can be repeated every 3-4 days. Attention: Black tea dyes hair and scalp dark. With blonde hair, the method should be used with caution!
banner teas-
A hair care with tea helps against first gray strands and refreshes blonde hair
Daily hair washing or rinsing with a brew of black tea (3 sachets per 300 ml, 10 minutes infusion time) can restore the natural color of graying black or brown hair. For maximum coloration of the hair, the tea should be rinsed out after washing only after 30 minutes. A disadvantage of "coloring" with black tea is the possible darkening of the scalp. The natural coloring of blonde hair gains intensity with chamomile tea. For this purpose, 7 bags of chamomile tea are brewed with 1 liter of water. After about 30 minutes, the hair is rinsed with the brew.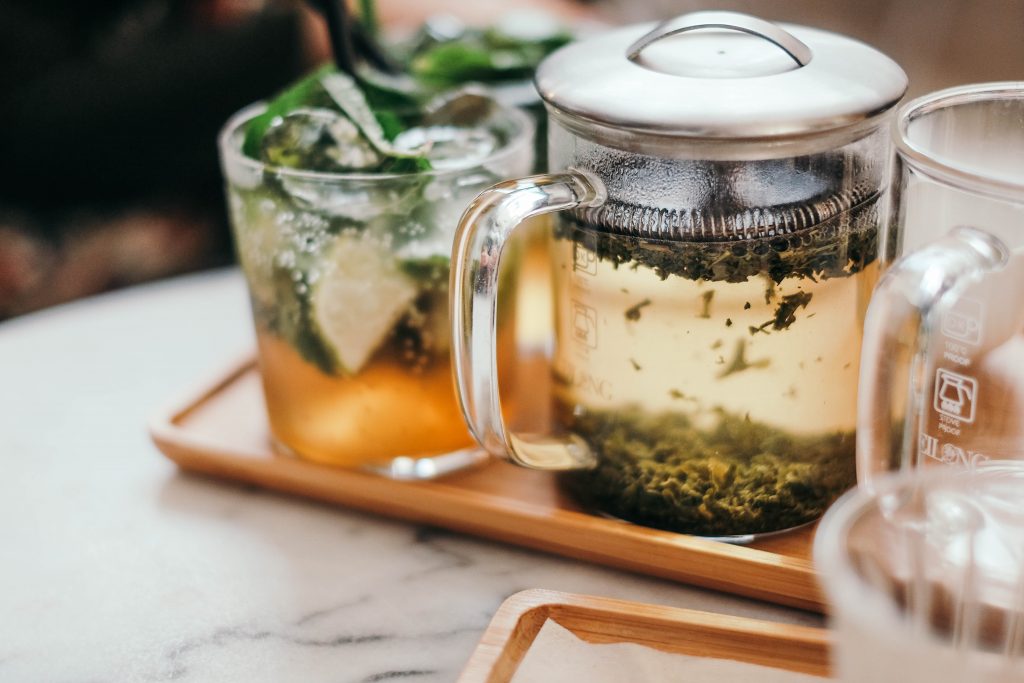 Green tea helps against hair loss
Tea Hair studies, both the external and internal use of green tea has been shown to be successful in treating hair loss. The secondary plant substance epigallocatechin gallate (EGCG) is said to be responsible for the positive effects of tea in hair loss. EGCG has a positive influence on the energy metabolism of the hair roots and can even partially counteract hereditary hair loss in men. 1] Although green tea will certainly not turn bald heads into full hair, 2-3 cups of green tea daily can be a good preventive measure against shrinking hair. For external application against hair loss, the tea should be used as a conditioner (preparation see paragraph "Fine Hair"), if possible daily.